Mediation Rooms
It is important when choosing you mediation space for it to be in a neutral environment and free from bias. That is why we provide an alternative to a business premises or solicitors office setting by offering a neutral venue that can be agreed by all parties and is easily accessible.
One large meeting room will be set up typically in a boardroom layout to comfortably seat the total number of attendees, but the room can be set up in any way you prefer. Your mediation space will also be the base for the mediator(s) on the day.

A small side room will be set up for each party that can be laid out however you would like. Both of these rooms will have a flipchart, pens and a table of refreshments. Understandably it can be a difficult time for both parties so box of tissues is provided in all rooms.

The three rooms will be on the same floor unless specified, however, the two small private rooms will be at opposite ends of the building to ensure the utmost privacy.
We appreciate that mediations may go on longer than anticipated, but rest assured, we are able to facilitate your stay for as long and late as is needed. Likewise, rooms can be available from as early as you require them as the Venue is open 24/7, just let us know in advance so that someone is always on hand to look after you.
Layout and Privacy: The walls of each room are thick to minimise sound from surrounding events or from anyone listening or looking.
Invoicing: Both parties may look to split the cost of a mediation so we are able to separately invoice each party to avoid further communication.
Printing Services: If any parties require any AV facilities we ask that you let us know in advance to be able to set it up.
Assisted Access: If any individuals require assistance, arrangements can be made to facilitate their needs.
Catering options are available which can be discussed during the booking process. We can arrange for attendees to have a table of tea, coffee, water and biscuits set up in each individual room that can be topped up at the most suitable times.

A buffet lunch including an assortment of sandwiches and wraps. All with the consideration of dietary requirements, together with fruit/home baking/fresh juice can be delivered to each of the three individual rooms at times to be agreed on the day.
Ceiling Mounted Projectors
Water Coolers, Cordials and Sweets
Every event is unique. Our experienced team will work with you to ensure that your requirements are met. They are here to help you with every aspect of planning your meeting, during the run-up to your event and are there throughout the day should you need any assistance. Our hassle-free booking experience will be the first step to everything going to plan and will help ensure that your meeting is a success.
Whether you want to hire a meeting room or ask a few questions, we're always here to help! Our team will guide you through the options to meet your needs and budget, in just a few minutes.

Call James, Stewart or Sarah directly on 0131 538 8333, email [email protected] or fill out a quick enquiry form to receive a call-back.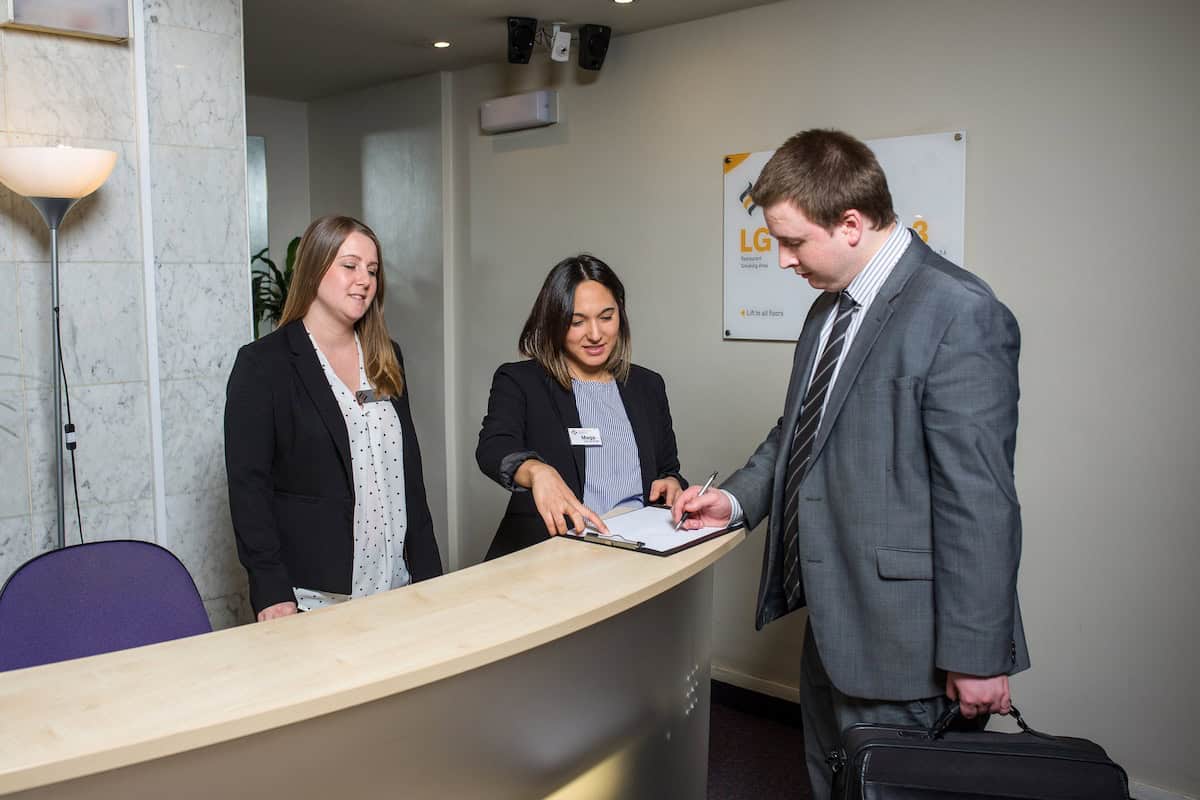 Edinburgh Training and Conference Venue FAQs
Yes, book your lunch times with us at a time that best suits your event. If you have arranged for tea and coffee to be served in the room let us know at what time you would like them topped up on the day. The coffee lounge is available throughout the day.
Yes, we have syndicate rooms within the centre and we can often allocate one on the same floor as your main meeting room. This means you don't have to waste time between sessions moving from floor to floor.
Yes, we can usually give you access before your event starts, just let us know when you'd like to get into the room and we'll do our best to accommodate your requirements. If you want guaranteed access to the room before your event there may be a charge, depending on when and for how long you need access.
We offer a full range of administration support services. So if you need photocopying, faxing or email services our administration team will be there to assist. If you've forgotten scissors, blue tak or post-its, we keep them all in stock. Often these items are complimentary, but if there's a charge we'll let you know before we do anything.
Yes, we have experienced on-site technical support staff that can provide help in all areas from fixing a projector, gaining access to the internet and advanced PC set-ups.
Are you ready to schedule your next meeting?
Let Edinburgh Training and Conference Venue be part of your success