Tribunal Rooms
Looking for somewhere to hold an Edinburgh Tribunal can be challenging, but it doesn't have to be. We know that tribunals can be emotional and we will bend over backwards to ensure you have everything you need, with the maximum privacy and the least disruption. Let the team know in advance, or on the day, what you need and we can help contribute to the success of your tribunal.
The Edinburgh Training and Conference Venue provides a range of flexible rooms in Edinburgh city centre. There are 15 rooms that cater for different group sizes and meeting styles. Every room can be set-up in the layout that best meets your requirements including cabaret, boardroom, U-shape, theatre, exam, classroom, Video Conferencing, or simply chairs. Three meeting rooms boast stunning views of Arthur's Seat.

The meeting rooms are available 24/7, including evenings, weekends and holidays. Every room offers a private space for your board meeting, team meetings, client presentation or interview, with full AV equipment and video conferencing available if you need them.

There are a wide range of menu options to choose from, including vegetarian, vegan and dietary free options. We have sourced Colombian Fair Trade coffee and 27 varieties of tea.
Ceiling Mounted Projectors
Water Coolers, Cordials and Sweets
Every event is unique. Our experienced team will work with you to ensure that your requirements are met. They are here to help you with every aspect of planning your meeting, during the run-up to your event and are there throughout the day should you need any assistance. Our hassle-free booking experience will be the first step to everything going to plan and will help ensure that your meeting is a success.
Whether you want to hire a meeting room or ask a few questions, we're always here to help! Our team will guide you through the options to meet your needs and budget, in just a few minutes.

Call James, Stewart or Sarah directly on 0131 538 8333, email [email protected] or fill out a quick enquiry form to receive a call-back.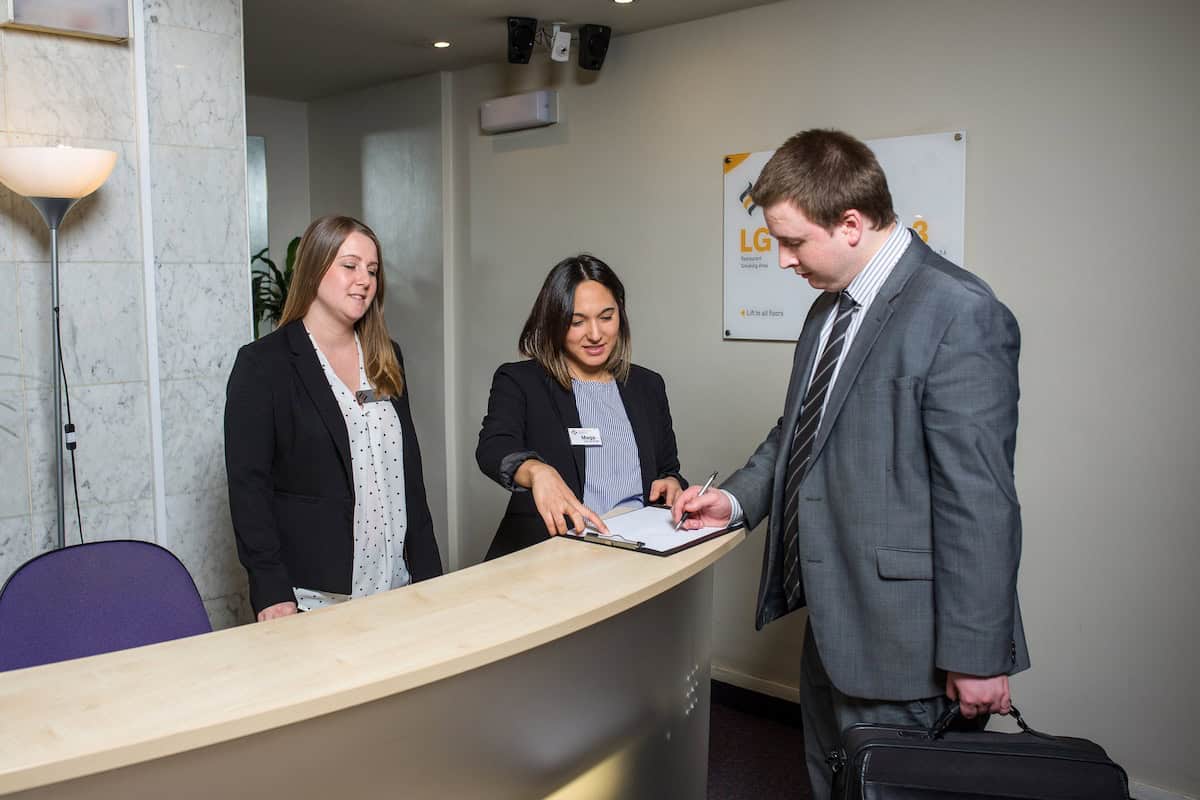 Edinburgh Training and Conference Venue FAQs
Yes, book your lunch times with us at a time that best suits your event. If you have arranged for tea and coffee to be served in the room let us know at what time you would like them topped up on the day. The coffee lounge is available throughout the day.
Yes, we can usually give you access before your event starts, just let us know when you'd like to get into the room and we'll do our best to accommodate your requirements. If you want guaranteed access to the room before your event there may be a charge, depending on when and for how long you need access.
Yes, we have experienced on-site technical support staff that can provide help in all areas from fixing a projector, gaining access to the internet and advanced PC set-ups.
Yes, we have syndicate rooms within the centre and we can often allocate one on the same floor as your main meeting room. This means you don't have to waste time between sessions moving from floor to floor.
We offer a full range of administration support services. So if you need photocopying, faxing or email services our administration team will be there to assist. If you've forgotten scissors, blue tak or post-its, we keep them all in stock. Often these items are complimentary, but if there's a charge we'll let you know before we do anything.
Are you ready to schedule your next meeting?
Let Edinburgh Training and Conference Venue be part of your success